Start Here
Downloads are only available to ALTA Members. If you are a member Please Log In
ALTAprints
7 Reasons Everyone Needs Title Insurance
Purchasing a home a home is an exciting and emotional time for many people. This educational one-pager walks through 7 reasons why a homeowner should make sure they get owner's title insurance.
Wire Fraud Rack Card
Mortgage Closing Scams is one of the single costliest forms of fraud a homebuyer can fall victim to. This rack card is meant to be handed out any homeowner who is ready to purchase a home or added to the CPL packet.
Tips for Talking Title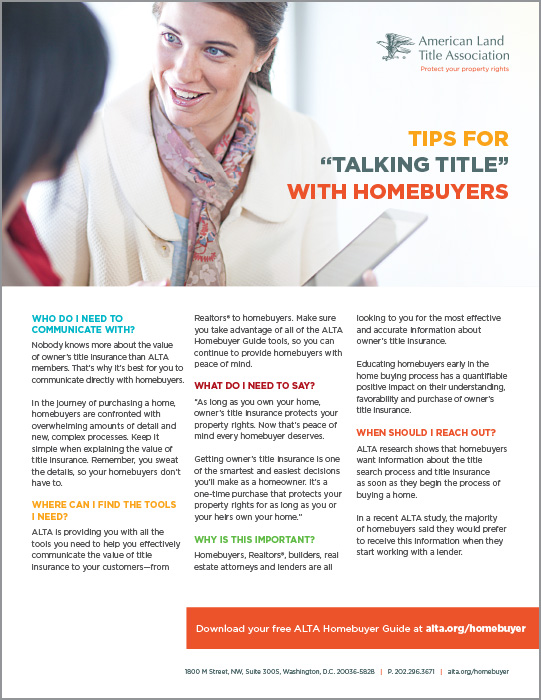 Nobody knows more about the value of owner's title insurance than ALTA members. That's why it's best for you to communicate directly with homeowners. This document helps answer basic questions about how to communicate the benefits of title insurance.
Blueprint
Drive home the message that title insurance is a one-time fee for a lifetime of peace of mind.
Clients Shouldn't Have To Fight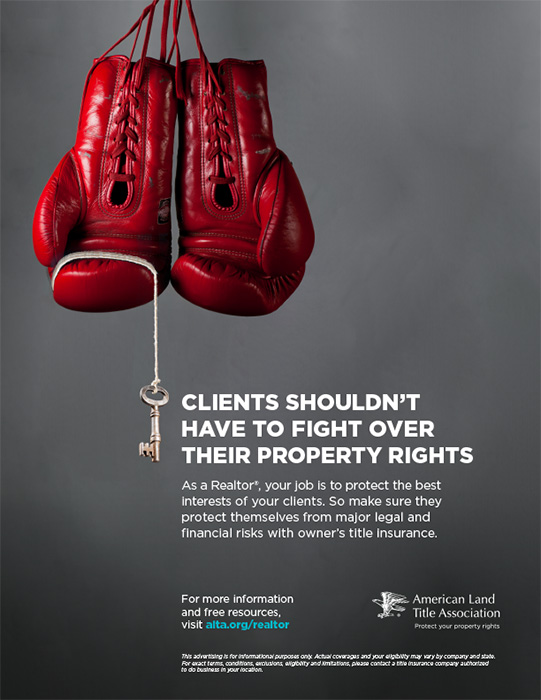 Target Realtors®, with this ad, that says "your job is to protect the best interests of your clients. So make sure they protect themselves from major legal and financial risks with owner's title insurance."
FAQs of Title Insurance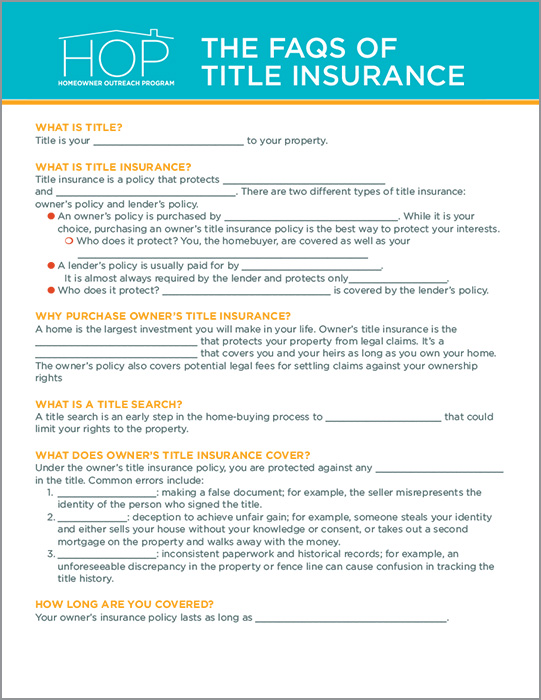 HOP
Leaders
Only
Train your staff on how to answer some of the basic questions they will hear about title insurance. This also includes a answer key sheet as well.
Home Is Where The Heart Is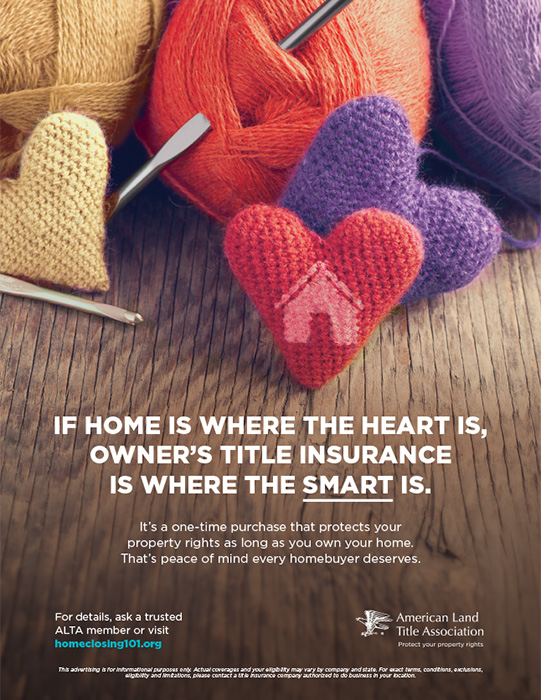 This advertisement uses a current trend to drive home that title insurance is a one-time purchase that protects your property rights as long as you own your home. That's peace of mind every homeowner deserves.
Peace of Mind You Deserve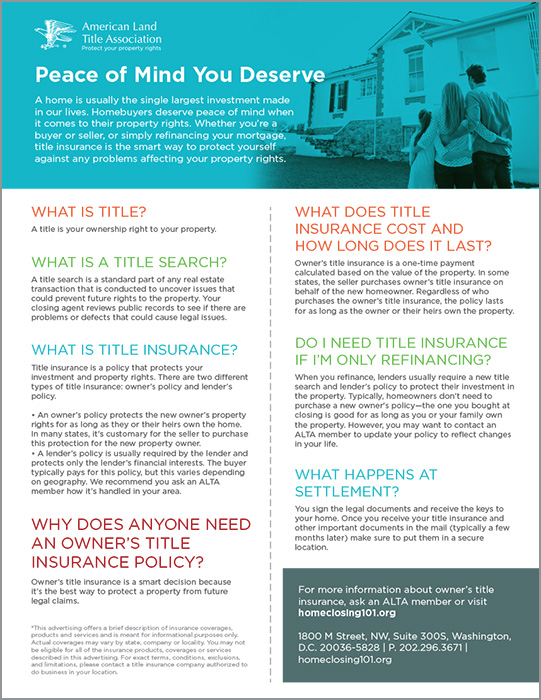 ALTA members in seller-pay states can use this one-pager to reach consumers who are in the process of purchasing a home.
Poster - Whatever You Call Home 2015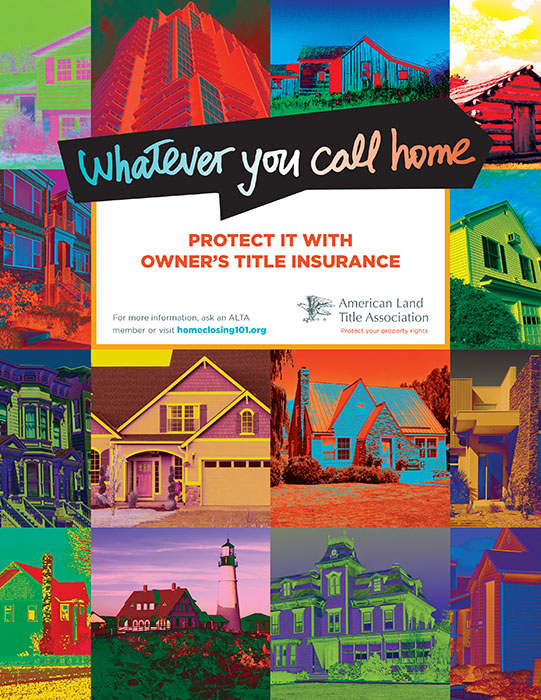 Bring some color to your office wall space with this poster that gives a simple message anyone can understand, "Whatever you call home, protect it with owner's title insurance."
Poster - You Sweat the Small Stuff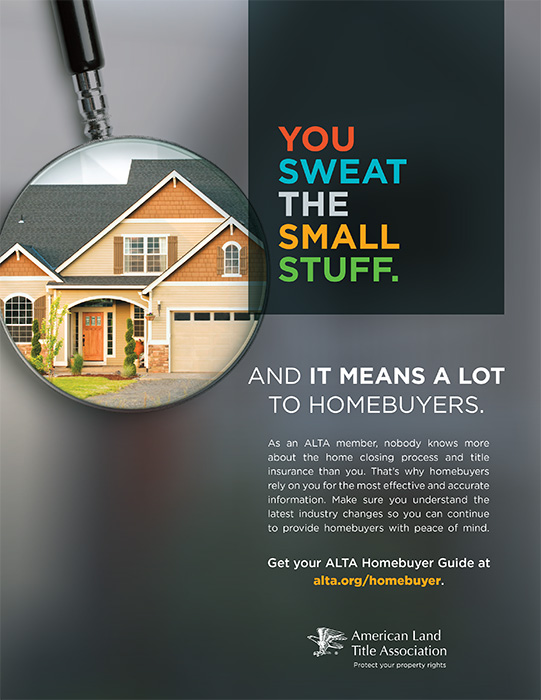 You can use this internal poster in your break room to help your staff understand they are an integral part of the real estate process and the work they do is important.
Realtor Rack Card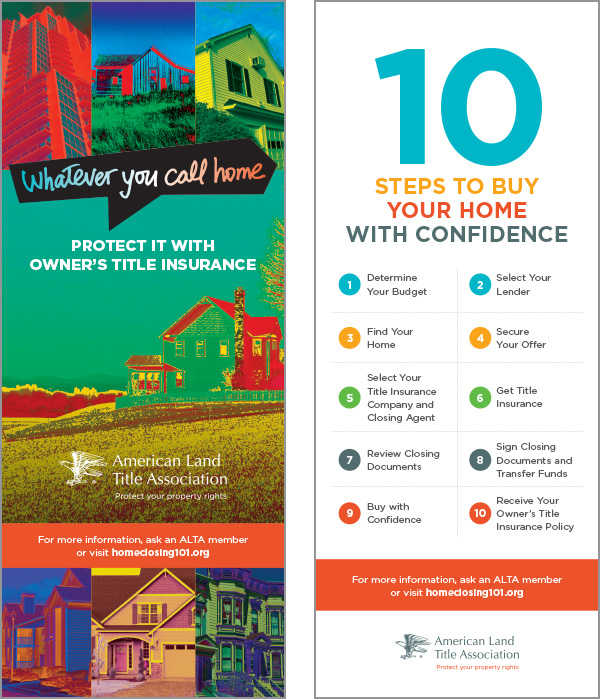 This Realtor®-facing rack card boils down the steps to purchasing a home, and gets t the point of protecting your home with owner's insurance. Available in spanish.
The Last Thing You Want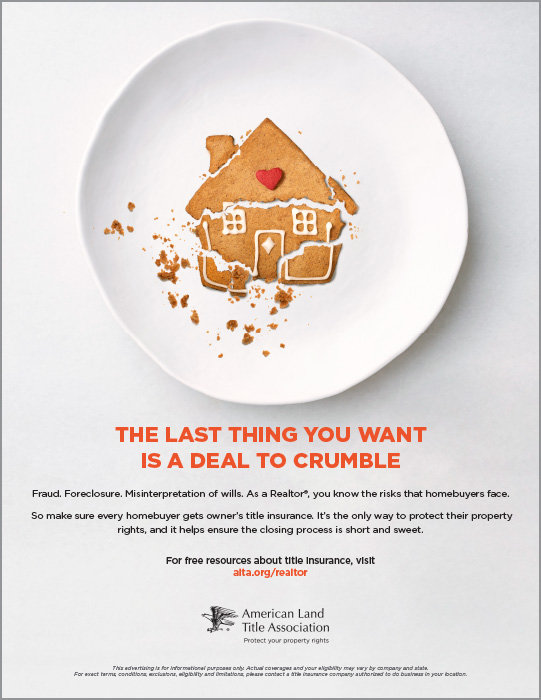 This REALTOR-facing advertisement, reminds REALTORS of all the risks that homebuyers face. So make sure every homebuyer gets owner's title insurance. It's the only way to protect their property rights, and it helps ensure the closing process is short and sweet.
Whatever You Call Home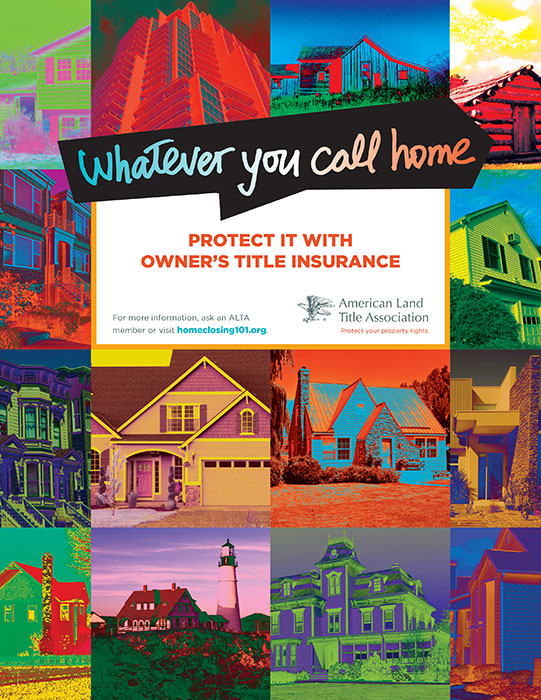 Colorful, eye-popping advertisement has a simple message anyone can understand, "Whatever you call home, protect it with owner's title insurance."
You Shouldn't Have to Fight Over Your Property Rights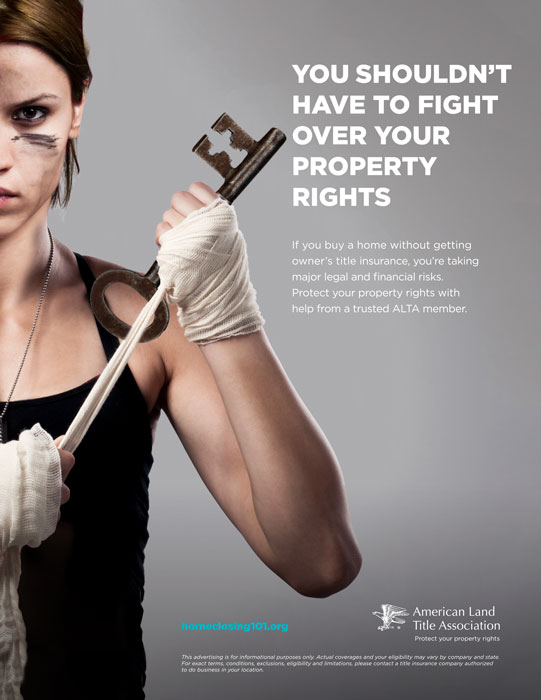 Sometimes the stick is better than the carrot, ALTA created this print ad to explain the consumer is taking major financial risks if they do not protect themselves with owners title insurance.
You Sweat the Small Stuff Doorhanger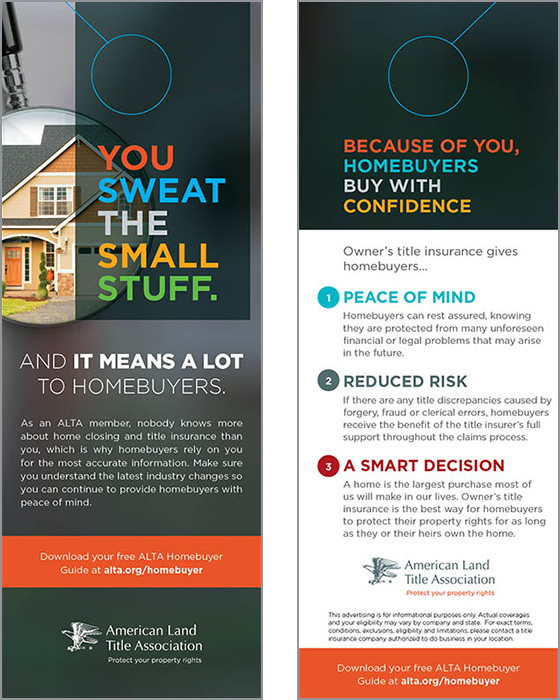 You can use this industry-facing doorhanger to spread the message of communicating the benefits of title insurance.
Digital Media
ALTA Woman on the Street - What is Title Insurance?!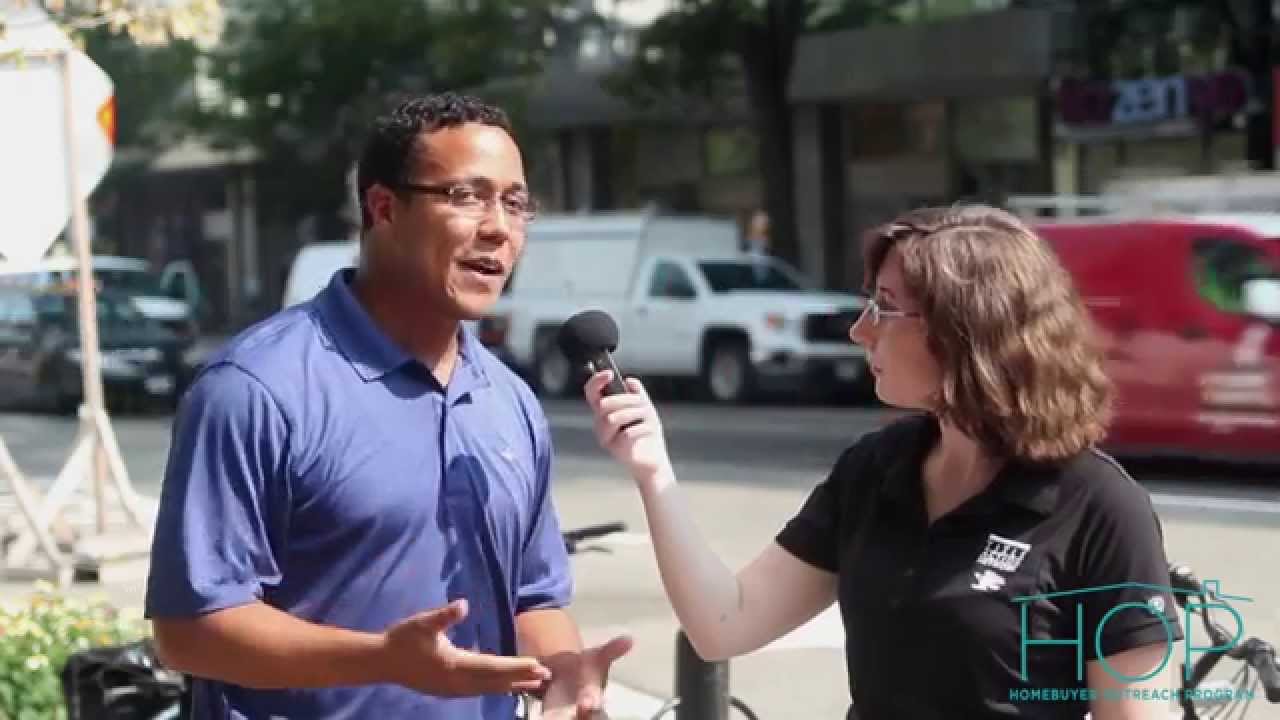 You think everyone buying a home knows what title insurance is? Share this video with your staff to align their understanding of what consumers know about title insurance.
Templates
Learn to Best Explain Our Industry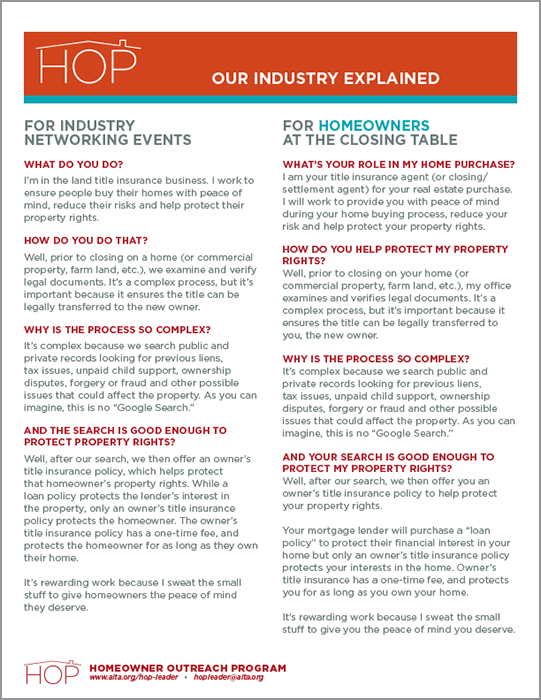 This popular handout is used for 2 mock conversations. The first is with a homeowner at the closing table and the second is for use at a networking event. This handout is great for walking through our industry: what we do and how it benefits our customers.
Letter to Homeowner Explaining Title Insurance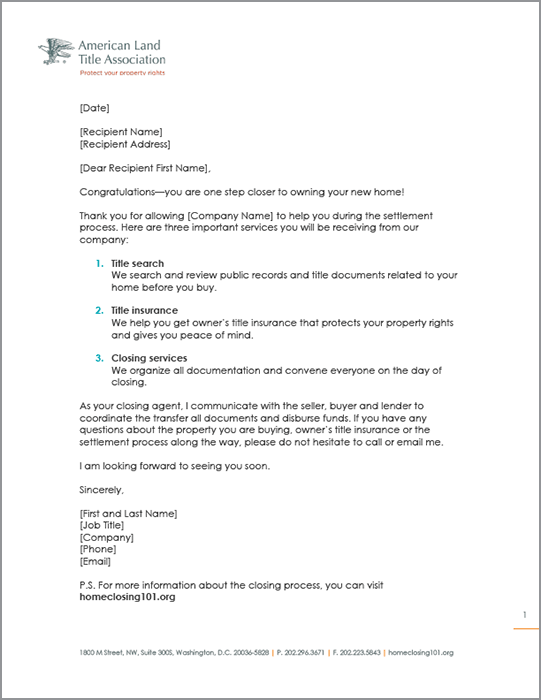 Don't know where to start with your customers? Here is a great place!
Blog Post
Closing Time: 6 Steps Every Homebuyer Should Expect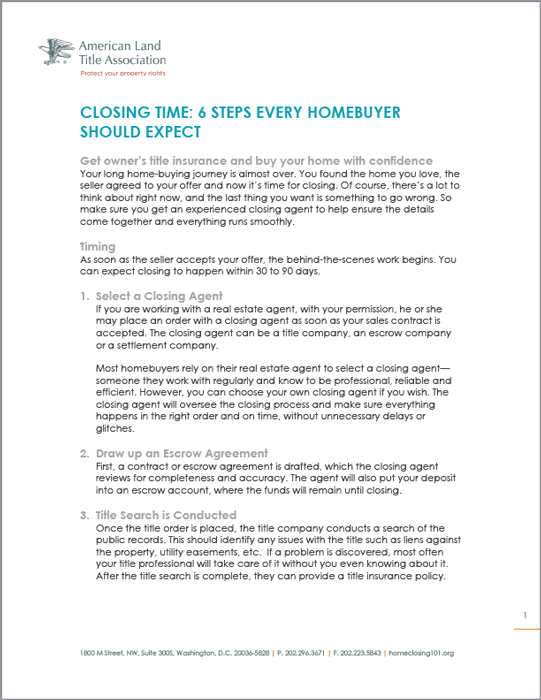 The FAQs of Title Insurance For Homebuyers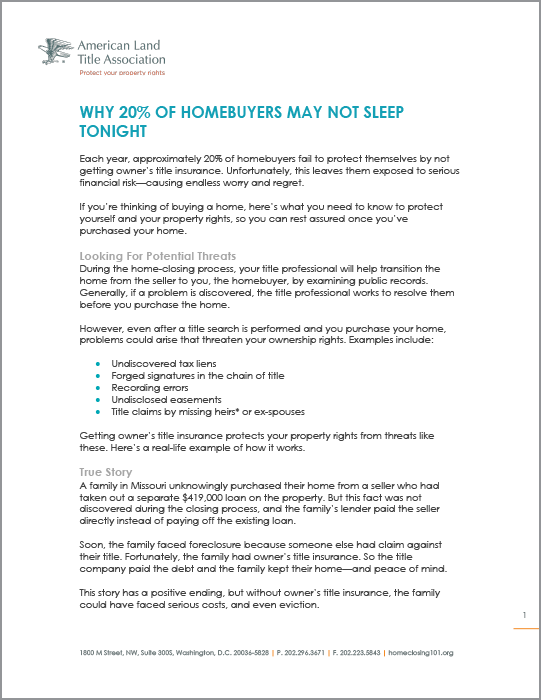 Presentation Resources
12 Social Media Strategies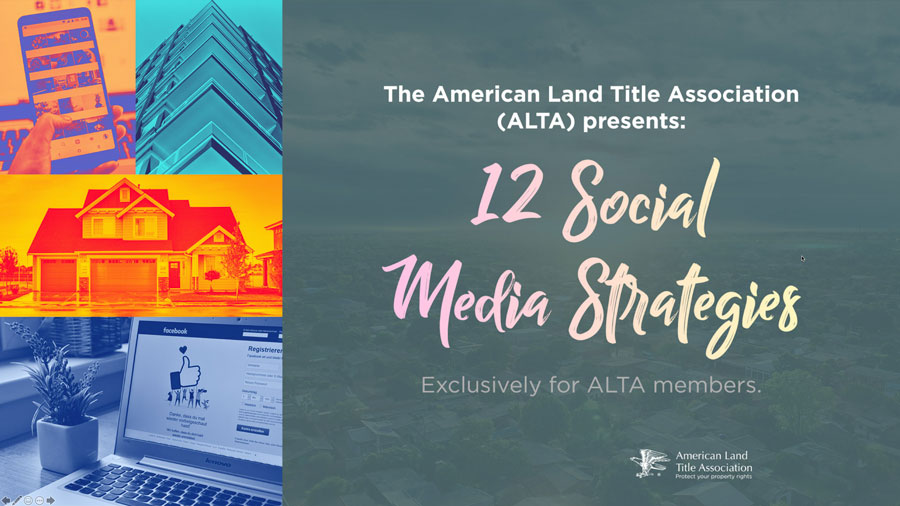 Develop your company's social media strategy using these 12 proven methods to reach the consumer in a variety of social media channels.
Homeowner Checklist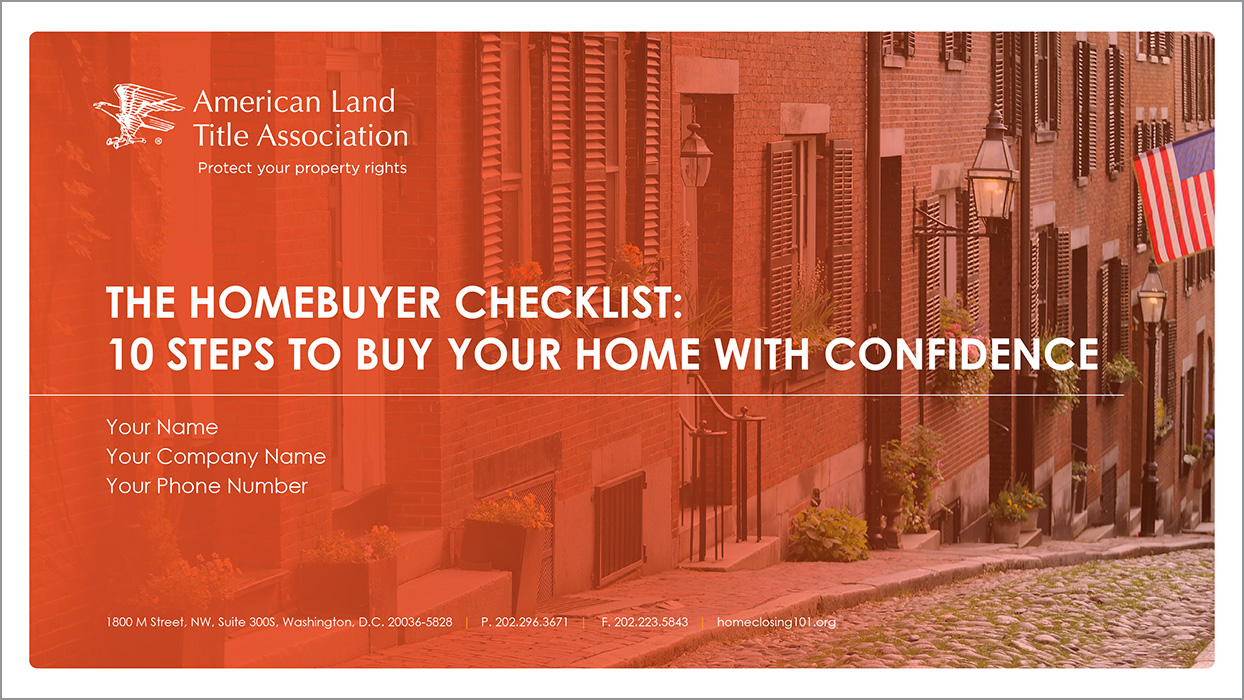 This customizable presentation is based on the 10 major steps to purchasing a home. Look in the notes section for tips on presenting each slide.
Talking Title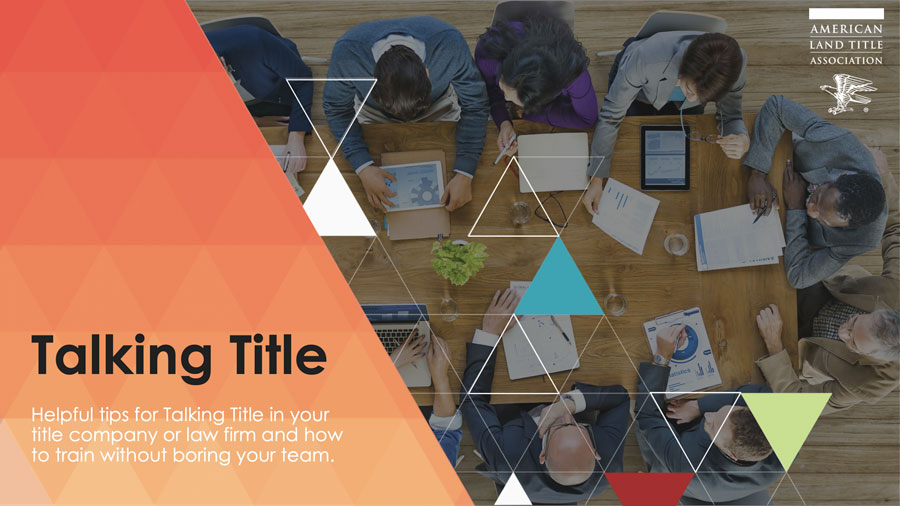 HOP
Leaders
Only
This presentation will provide helpful tips for talking title in your title company or law firm and how to train without boring your team. Use these strategies to educate your team.
What is Phishing/Wire Fraud?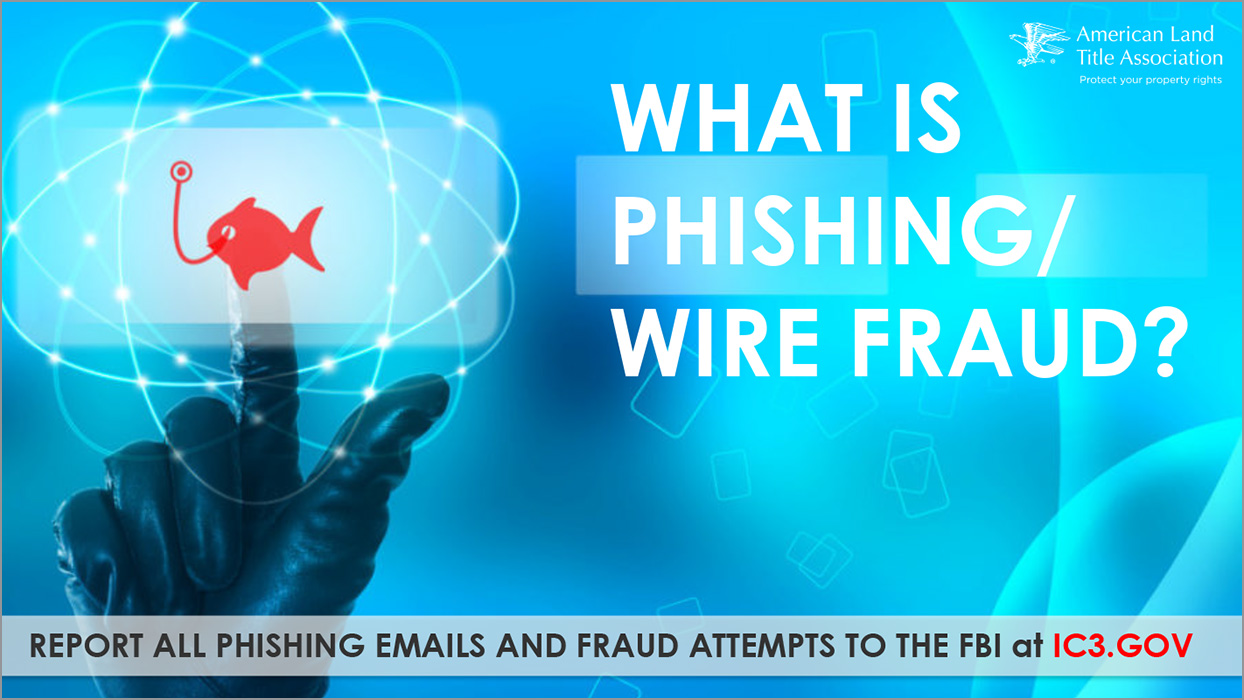 HOP
Leaders
Only