Title Industry Remembers Former ALTA Board Member Herschel Beard
June 21, 2022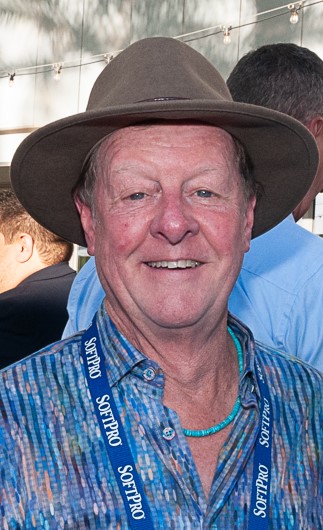 A third-generation title professional, Herschel Beard will be remembered as a great friend and mentor, but more importantly as a person dedicated to serving his family and community. Beard, who served on ALTA's Board of Governors from 2009 to 2013, passed away peacefully in his garden on June 18 at the age of 71.
Beard was owner and manager of Madill, Okla.-based Marshall County Abstract Co., which marked 100 years of being a family-owned business in 2020.
After receiving his master's degree in communications from Oklahoma State University, Beard returned to Madill in 1975 to help his family run the title company. Beard married Sue Jennings on June 12, 1982. The couple has two sons, Wade and John (JT), who serves as title operations manager for the family's business and participates on ALTA's Government Affairs Committee and is a TIPAC state trustee.
In 1993, Beard got involved with ALTA when he joined the Education Committee. He chaired the committee from 1997 to 2001. He then served on ALTA's Abstracters and Agents Section Executive Committee from 2001 to 2013.
In 2012, he was instrumental in helping ALTA develop its National Title Professional Designation (NTP) program, which recognizes land title professionals who demonstrate the knowledge and experience essential to the safe and efficient transfer of real property. Beard served on the NTP Council from 2012-2016. Beard also contributed to several other ALTA engagement groups, including the Government Affairs Committee, Best Practices Executive Committee, Bylaws Committee and TIPAC State Trustees. He was named an ALTA Honorary Member in 2020.
"The outpouring of respect and sadness of his passing is a testament to the incredible legacy that Herschel leaves behind," said Diane Tomb, ALTA's chief executive officer. "ALTA was fortunate to have him serve on our board. His experience, knowledge and dedication were essential to help solve industry issues and better serve consumers in Oklahoma and across the United States."
Mark Bilbrey, who served as ALTA's 2005 president, forged a strong friendship with his fellow Oklahoman. Bilbrey worked for 26 years in El Reno, Okla., at Warranty Title & Abstract Inc.
"Herschel was very much like a brother to me," said Bilbrey, who is president of Old Republic Title. "He helped me get involved with ALTA. We grew up in the industry together." Bilbrey followed Beard as president of OLTA.
"Herschel was one of the most talented, caring and compassionate individuals I have ever known," Bilbrey added. "His friendship made me a better person. His dedication and love to his faith, his family, his community and our industry set a standard that I have admired and for which I will continue to aspire."
Diane Evans was ALTA's 2015 president and served on the Board with Beard. She described Beard as the "title person we all wanted to be."
"Herschel was the ultimate gentleman," Evans said. "He was kindest teacher I ever met. He was committed to everything he did. He cared about his family, his friends and his profession. Herschel is just one of those extraordinary people that leaves a mark on your life."
Frank Pellegrini, ALTA's 2013 president, said he and his wife, Mary, often think about the times they spent at ALTA events with Herschel and Sue Beard.
"We miss those times, but smile at the memories," said Pellegrini, CEO and president of Prairie Title in Illinois.
Not only has he been involved in improving the land title industry as the national level through ALTA, Beard participated at the state level as well serving as past president of the Oklahoma Land Title Association (OLTA) in 1992. He received OLTA's Title Person of the Year award in 2001. In addition, he was appointed twice by Oklahoma's governor to the state's regulatory board for the title industry, which he chaired for two years.
As the owner of a small operation, Beard was committed to helping develop tools and resources that helped business like his. He said that membership in ALTA was vital to his survival as a small agent. "I can't do everything myself to impact the outcomes, so I depend on our trade association to help me," Beard said.
Pellegrini said Beard was an exceptional and valuable Board member, especially since he spoke for more than two thirds of ALTA's membership—the small, rural title agent.
"Like many from the great mid-section of our country, Herschel spoke in a sincere, plain and measured voice," Pellegrini said. "He shared his integrity and common-sense to solve difficult questions, and inevitably brought us to the correct solutions. The industry has lost a great leader and he will be sorely missed. But, the industry is much better for having had benefit of Herschel Beard's influence and character."
While he turned to ALTA and OLTA to help his business, Beard was always there to support his community. He was active with the Madill First United Methodist Church, Fran Drummond Madill Community Day Care Center, Madill Rotary Club, Madill Art Club, Bread of Life, Santa's Elves, Phi Gamma Delta, OSU Alumni Band and Marshall County Chamber of Commerce.
"Pops dedicated his life to serving his family and community," his family wrote in Beard's obituary. His activities brought him an immense amount of joy and energy. He loved seeing his community thrive. Pops never missed his sons' athletic events or band performances. He was in the stands for every OSU home game when Wade was drum major, and has continued his support for the Cowboys every year since. His parents instilled in him an understanding of service to his family, his community, his church, and his country. He never wavered in his duty to this service."
Services
Services will take place on Wednesday, June 22, at the United Methodist Church in Madill. In lieu of flowers, the family requests donations to the United Methodist Church or the Fran Drummond Daycare Center (both in Madill).

Contact ALTA at 202-296-3671 or communications@alta.org.