What's Your Spice?
March 12, 2020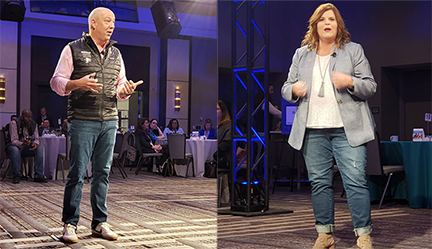 What are title and settlement agents spending the most time on? What issues and trends are affecting business? How are companies turning challenges into opportunities? These were main questions addressed during the Local Scene Ideas Festival at ALTA SPRINGBOARD in Denver.
Lisa Steele of Mother Lode Holding Co. and ALTA Board member David Townsend MTP, NTP of Agents National Title Insurance Co. led the discussion before the roughly 325 attendees shared ideas at their own tables during the Knowledge Communities part of the program.
"Title agents across the country have so many differences, yet a lot of similarities," Steele said. "It's important to network with one another to develop great ideas."
Differentiating from the competition in the mind of the customer is essential to gaining market share and increasing profitability. The size or location of a company doesn't matter. Each operation is confronted with the same challenges. The chief difference is the magnitude.
The conversation touched on how companies can leverage the ability to offer different services such digital closings, use content provided through ALTA's Homeowner Outreach Program and build culture through the hiring process. The conversation also touched on how companies protect client funds from wire transfer fraud and how consumer data privacy laws are affecting the industry.
To drive home this point, Townsend shared the great chicken war debate in Pittsburg, Kan., between Chicken Mary's and Chicken Annie's. Both sell chicken. What sets them apart is how it's prepared, cooked and served.
"How do you maintain that local touch when you expand into other markets?" Townsend asked. "It's all about the spice. You need to let your community know about the different flavors of your company offers."

Contact ALTA at 202-296-3671 or communications@alta.org.