Idaho Governor Signs RON Bill
March 25, 2019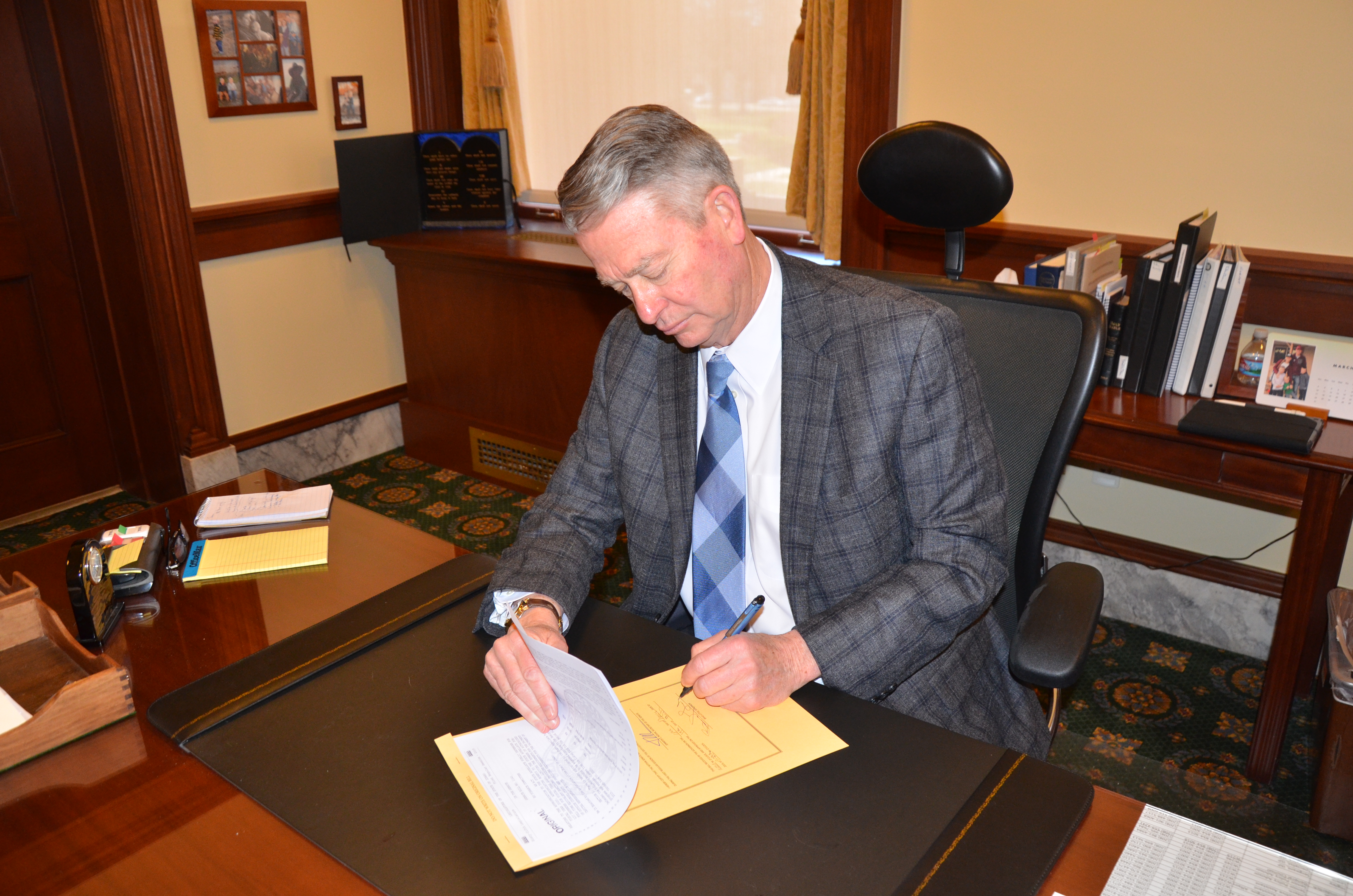 On March 21, Idaho Gov. Brad Little (pictured right) signed Senate Bill 1111 into law enabling remote online notarizations (RON).
In 2017, the Idaho Land Title Association (ILTA) worked with the Idaho Secretary of State, the Idaho Bankers Association and the Idaho Association of Realtors to implement legislation to allow electronic notarization. The ILTA once again took the lead in 2019 and helped coordinate the efforts of SB 1111 with all industry stakeholders and the Secretary of State's office.
"This is a much-needed update to Idaho Code that will enable remote notarization and require counties to accept electronically notarized records for recording," said Gov. Little. "I want to thank the Idaho Land Title Association and Secretary of State Lawerence Denney for bringing this important measure forward."
SB 1111, which revises the state's Uniform Law on Notarial Acts (RULONA), goes into effect Jan. 1, 2020.
The passage of this legislation would bring Idaho in line with the growing number of states that now accept some form of RON. Idaho joins Indiana, Michigan, Minnesota, Montana, Nevada, North Dakota, Ohio, South Dakota, Tennessee, Texas, Utah, Vermont and Virginia with laws explicitly allowing the practice.
The key features of Idaho's RON legislation include:
Provide that an individual may appear before a notary public by means of communication technology and thereby comply with the provisions calling for personal appearance before a notary public.
Define communication technology as any means or process that allows a notary public and a remotely located individual to communicate with each other simultaneously. Specific technology is not identified and will be determined by rule making at a later date.
Specify the means by which a notary public must identify a remotely located individual. This includes personal knowledge of the identity of the individual, and evidence of the identity of the remotely located individual by oath or affirmation from a credible witness.
Permit a notary public to identify a remotely located individual by at least two different types of identity-proofing processes or services. This may include having a remote individual answer questions for which there is a high probability that only the true individual would be able to answer correctly or using biometric identification technology or credential analysis.
Require that an audio-visual recording of the performance of the notarial act be created.
Provide that the certificate of notarial act required must indicate that a notarial act performed in accordance with this Section was done by means of communication technology.
Provide that the commissioning officer may adopt rules regarding the performance of notarial acts for remotely located individuals.
Specifies that the notarial officer may certify that a tangible copy is an accurate copy of an electronic record and that such certifications may be accepted for recording into the real estate records.
"I'd like to thank the Idaho Land Title Association Legislative Committee and the Idaho Secretary of State for their hard work on getting this important piece of legislation passed," said Cameron McFaddan, president of the ILTA. "Secretary Denney and his staff provided an incredible amount of leadership on this issue. It helps bring Idaho into the modern era of recording and will ease the headaches of thousands of Idaho families, as they realize their dreams of closing on a home."
SB 1111 unanimously passed out of both the Senate and House State Affairs Committees as well as off both the Senate and House Floors. The Secretary of State's office will hold negotiated rulemaking hearings to discuss the implementation of the law throughout the 2019 legislative interim. The ILTA will play an active role in the negotiated rulemaking process.

Contact ALTA at 202-296-3671 or communications@alta.org.