Save Money by Registering Today for ALTA SPRINGBOARD
February 9, 2017
ALTA SPRINGBOARD | March 8 - 9, 2017 | Fort Worth, TX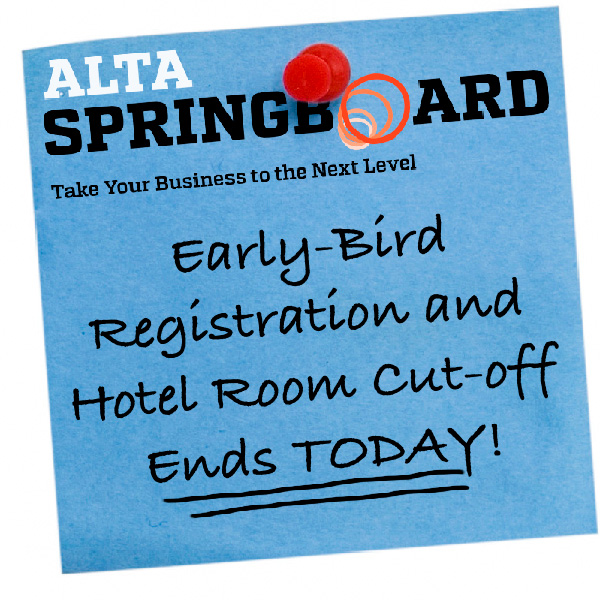 This is it! Today is the day to get the early-bird discount and be among successful title professionals from around the country who will attend the very first ALTA SPRINGBOARD!
If you're tired of the typical general sessions and education programs, this is the event for you. We're providing a fresh curriculum dedicated to deliver new thinking and insights.Here's a look at industry issues you'll learn about:
Staffing & Development
Daniel Mennenoh, president of H.B. Wilkinson Title Co. and Devon Irby, chief compliance officer of H.B. Wilkinson Title Co.,will challenge attendees to think outside the box when it comes to building and maintaining your team. From there, subject matter experts will guide the conversation as you discuss trends with your peers and learn how others find and hire talented employees.
Culture of Compliance
Is your operation focused on treating customers fairly and complying with the law? Steve Day, executive vice president of Fidelity National Title Group, and Steve Gottheim, ALTA's senior counsel, will tee up a conversation centered on defining your company's brand and values. Industry experts will then help you identify and instill the values that are important for running a title operation. Fellow colleagues will share input on how they've empowered their staff for success.
Connecting With the Customer
Modifying your processes to meet the needs of today's customer can be challenging. Linda Grahovec, vice president of sales, marketing and communications for Fidelity National Title Group, and Betsy Russo, managing member of MCP Title Services, will offer advice on what it takes to acquire new business in this changing market. You'll also hear from other entrepreneurs on ways to improve the customer experience, so you can implement steps to keep orders coming in the door.


Interested in becoming a vendor at this event? Contact Claire Mitchell.

Contact ALTA at 202-296-3671 or communications@alta.org.