Genie Software
ALTA ID: 1000311
Genie Software
7530 N Glenoaks Blvd Ste 101
Burbank, CA 91504-1052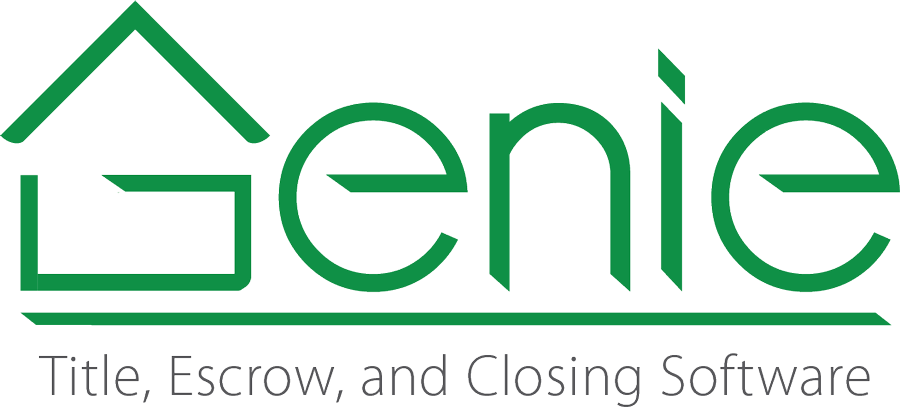 Company Description
Genie Software is a software platform for Title, Escrow and Closing Companies. Our suite of products leverages current technologies to boost productivity, manage the closing process, increase internal collaboration, and enhance YOUR customers' experience.

GenieSign is a custom eSign Solution built into Genie Software. GenieSign utilizes proprietary technology to eliminate the need to add eSign tags for signatures, initials, and text fields on documents and fillable forms. Simplify the process with the easiest, most comprehensive eSign solution in the industry.

Title Production Software
Genie Software's Title Production process surpasses the competition. Our users consistently outperform industry standards with integrated workflow management tools that maximize the daily output of each user.

Escrow and Closing Software
Genie offers a unique Dashboard that displays detailed closing information that can be accessed quickly to answer file related questions. Communication tools and a centralized, flexible tasking system facilitate the flow of closing information not only throughout the organization, but also to all parties of the transaction.

Implementation
Genie's experienced consultants evaluate the needs of each individual client to determine required configuration and customization beyond our standard package. Companies benefit from a tailored training program specific to each organization's processes ensuring a smooth transition.
Categories
Business Basics
Electronic + Digital Closings
E-Recording
Electronic Signing
Mobile App
Funds Management
Wire ID / Payee Match
Check Fraud Protection
Third-party reconciliations
Accounting Software Services
Information Security
Firewalls
Virus Protection
Encryption - data in motion
Encryption - data at rest
Cyber Insurance
Privacy Compliance
General Data Privacy
Data Mapping
Production
Closing / Settlement / Escrow Software
Title Production Software
Email Applications
Cloud/Hosting Services
Automation
Title Policy Preparation
Technology of the Future