Title Webbie Awards 2020
Websites and social media campaigns are some of the first ways companies interact with new clients. A great website or thought-provoking digital campaign give companies large and small equal opportunity to communicate their values and level of customer service to new customers. The Title Webbie Awards program recognizes ALTA-member companies that have created or redesigned the best title industry consumer-facing website or social media campaign within the past year.
ALL NOMINATIONS MUST BE RECEIVED BY 5:00 PM ET AUGUST 28, 2020
This year there are 3 awards (all websites and campaigns must be public after August 23, 2019)
Two Website Awards
Best Website-Title Agents and
Best Website-Underwriters
Criteria for inclusion:
company must be an ALTA-member in good standing,
new site must be less than 1-year old,
include a consumer webpage explaining title insurance,
screenshots of your old website for comparison,
You can use The Wayback Machine to find your old website (here's ALTA circa 2004),
short description of what makes your website unique,

maximum nominations from a company is 3 websites,
*large companies with multiple website:
Please nominate the parent company and submit subsidiary websites for review (award will go to parent company).


websites are judged on mobile friendliness, overall user experience, social-media integration, image/video use, content quality.
New This Year
#GoodDeeds Award
Criteria for this award are
company must be an ALTA-member in good standing
campaign must be less than 1-year old
short description of the campaign's goal
social media promotion/outreach across multiple platforms
community engagement (likes, shares, responses, etc . . .)
Please provide analytic data
event photos
success of campaign goals
limit 3 campaigns per company
Best Website-Title Agents
A website homepage has the ability to say so much about a business and a brand. Title companies should give the best first impression possible of your company to any potential customers. This award will go to a new website that gives consumers the information they need about the real estate transaction in clear concise language while underscoring the company's values for the consumer.
2019 Winner
Commerce Title
Commerce Title's homepage gives consumers the impression that their closing is going to be a smooth celebration. The website's language reassures consumers that Commerce Title has their closing under control. The website also provides consumers with easy access to title insurance data as well as contact information for every single person in the office.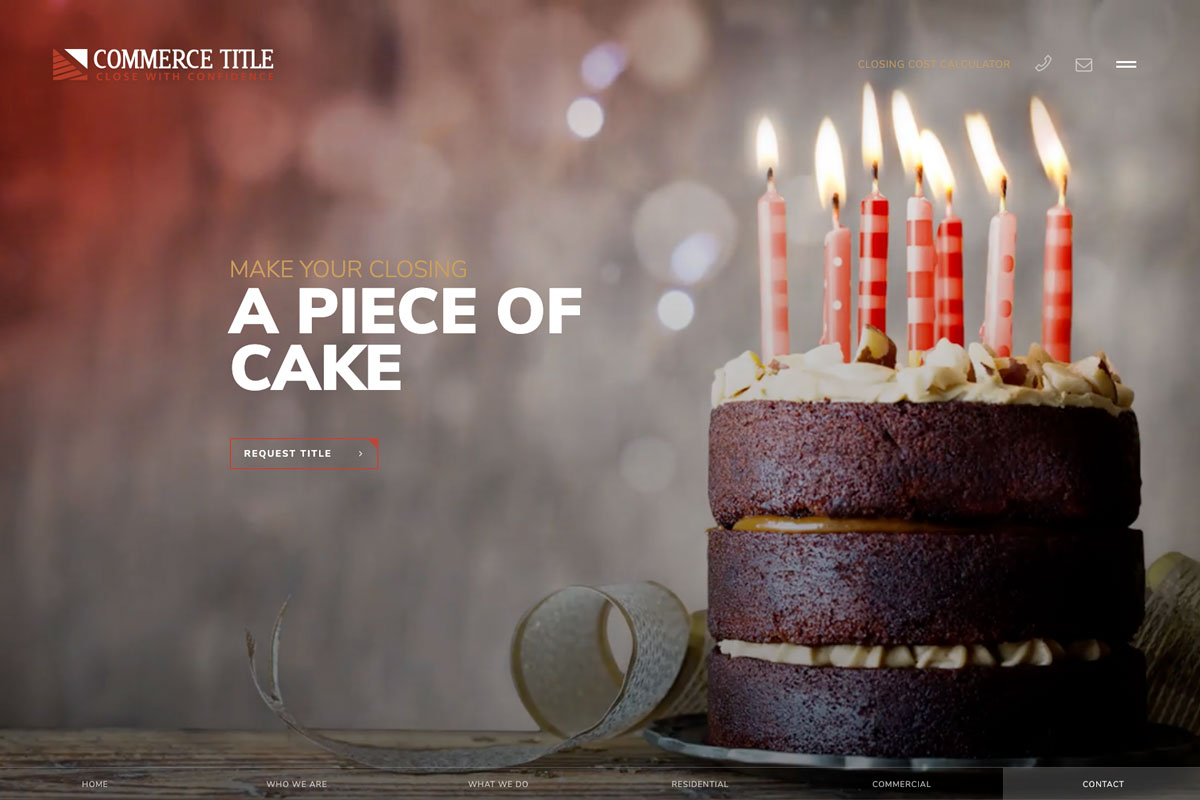 2018 Winner
Florida Title Insurance Co. (FTIC)
FTIC took an intentional approach to making a mundane product, such as title insurance, fun. The homepage is interactive: The cursor causes the main water photo to "ripple" as you navigate the page. The links, including "Title Insurance for Dummies," "Who Pays for What," "70+ Ways to Lose Your Property," and "Mission Kreplach," details the company's values, provide useful consumer information in an entertaining way.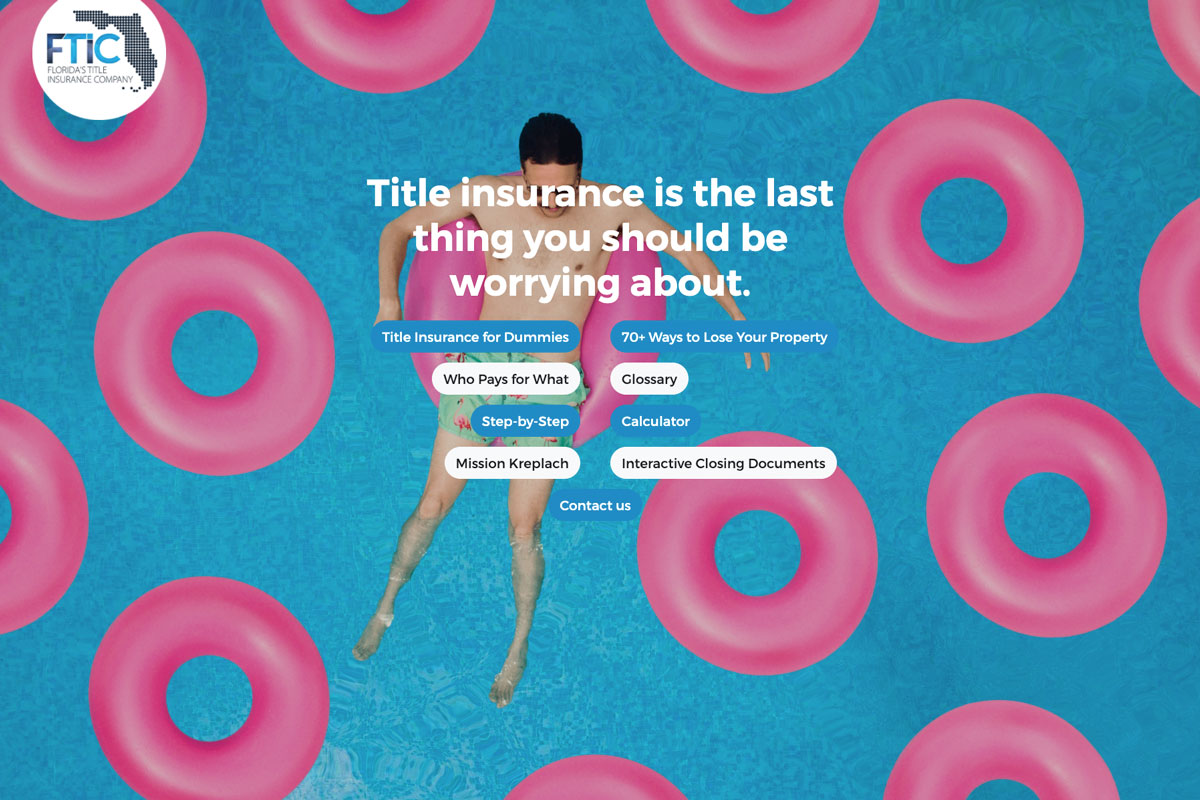 Best Website-Underwriters
In the past, the title insurance industry has focused on selling their services to professional partners, but now consumers are increasingly choosing who they work with throughout the entirety of the real estate transaction. This award highlights a new site created by an underwriter company that showcases the company's values, their services and provides consumer information and resources to help educate the consumer about title insurance.
2019 Winner
Old Republic Title Insurance Company
Old Republic's homepage establishes a strong message: "We serve our policyholders with strength, stability and more than a century of experience." The homeowner section is easy to find and packed with useful information that is broken up into palatable bites.
2018 Winner
Westcor
As the first point of contact many people will have with Westcor, they wanted the website to reflect both company culture and their Number One asset that makes Westcor: their employees. They greatly simplified the design of the site, added new features that make browsing, "contact us" and getting more info on becoming an agent much easier.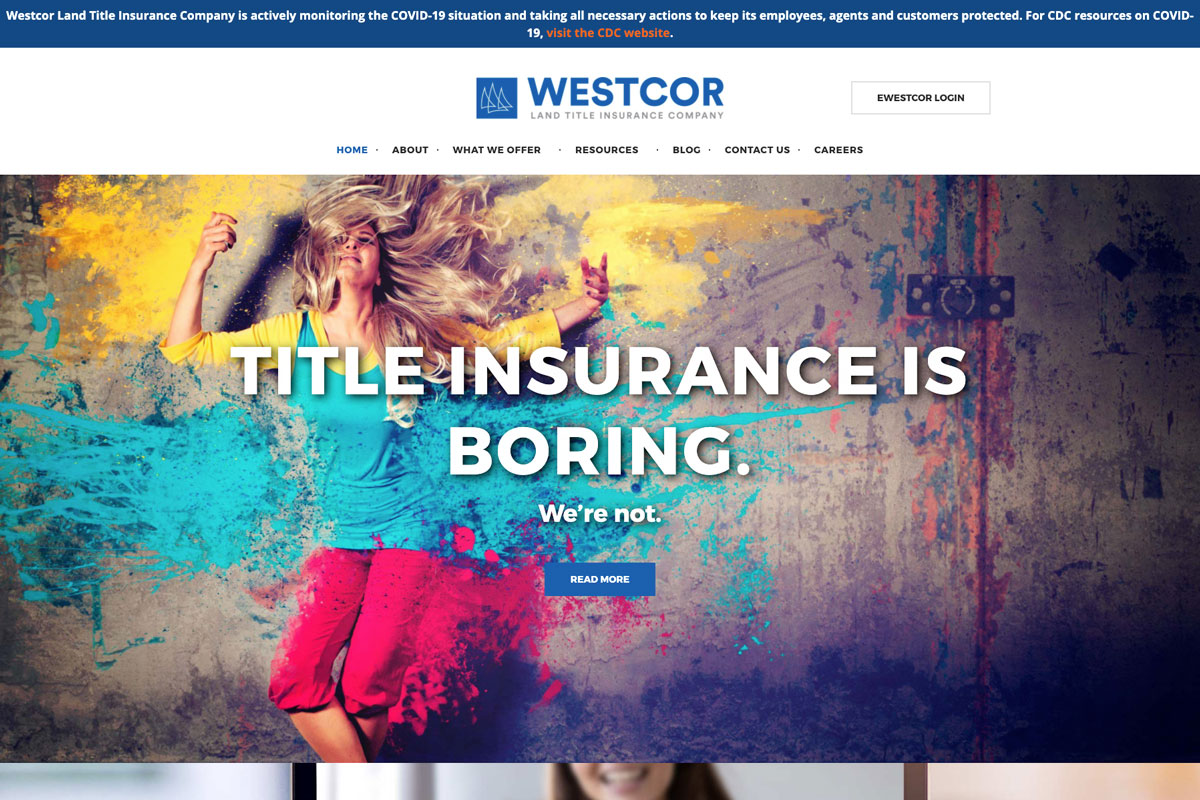 #GoodDeeds Award
This award will showcase the most effective social media strategy by an ALTA member that highlights the connection to their community. Campaign goals may include increasing awareness or inspiring action for a local charity or cause; or highlighting charitable work, including fundraisers for research/support, food banks, and other philanthropic events that lead to a positive outcome for the community.
Criteria for this award are:
Short description of the campaign's goal
social media promotion/outreach across multiple platforms
community engagement (likes, shares, responses, etc . . .)

Please provide some analytic data

event photos
success of campaign goals