New ALTA President Urges Industry to 'Attack the Fear'
October 9, 2020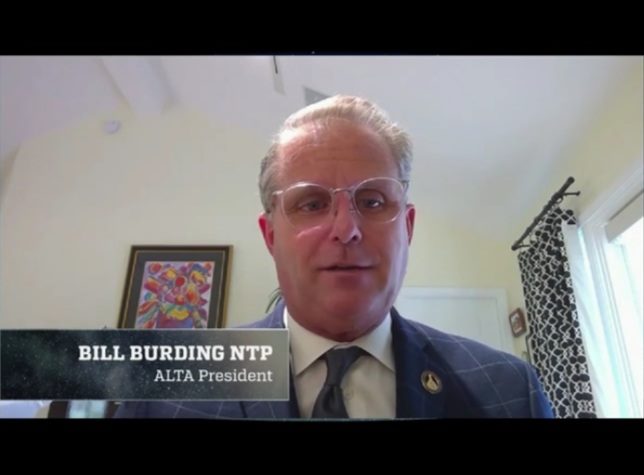 During his induction speech as ALTA president, Bill Burding NTP told attendees of the virtual ALTA ONE that the title industry has adapted amazingly to the changes brought on by the COVID-19 pandemic.
From handling drive-thru and hybrid closings to fulfill commitments to customers, Burding said the industry should be proud for how it responded. But he reminded the audience that the industry must continue to adapt. During the height of the health crisis, ALTA members were working around the clock to make closings convenient, safe and secure, which in turn kept the real estate industry firmly in the black.
"We're in the best fighting shape of our life," Burding said. "I think we have a confidence level I haven't seen in a long time. And we should feel confident. We handled this pandemic better than anyone. I think the fear of change is finally behind us as an industry. When we start to feel that worry, or fear, we must attack the fear."
"We don't have a choice. We have an important job. An essential job. Even through the pandemic we do what we've always done. Just differently," he added.
Burding looks forward leading the association during a time of uncertainty in the country. He views the obstacles as opportunities and is ready to work with ALTA's Board of Governors, staff and membership on ALTA's latest strategic priorities.
ALTA's 2020-2021 strategic priorities include helping members:
Tell their story inside and outside the industry to describe the people who make up the title insurance industry and the value they provide.
Develop and retain talent in a changing world of work.
Protect their customers' privacy and investment.
Promote digital closings.
"In the coming year, ALTA will work hard to help more members add digital closing options to their businesses, Burding said. "Additionally, ALTA will educate members about cyber and physical environment security threats to their businesses and the impact of data privacy laws. ALTA also will develop programs that will assist workers in navigating the changing workplace we all face. There is a lot of work to be done, and ALTA is ready to roll up our sleeves and get started."
Burding encourages the industry to continue being open to change, especially when it comes to streamlining workflow, integrating technology and the evolution of the industry's business model.
ALTA CEO Diane Tomb said Burding has the confidence, resilience and legal acumen that is essential to lead ALTA and its members through a global pandemic and economic recession.
"He will help enhance the understanding of the title insurance industry with government agencies and policymakers focused on federal real estate and housing policy and collaborate with industry stakeholders and partners on laws and advocacy efforts regarding data privacy and digital closing adoption," Tomb said. "The challenges we're facing require Bill's experience and foresight to help our member companies excel in an ever-changing business and regulatory environment."
Burding pointed to the ALTA Marketplace as a resource for title agents—especially smaller operations—to connect with vendors and find new products and tools. He said ALTA wanted to give all title agencies the same access to the best and most forward-thinking vendors and business solutions.
"A lot of the time-consuming research is done for you so you can find exactly where to go, who to contact and take out the guess work," Burding said. "The technologies and efficiencies the vendors in our ALTA Marketplace offer are what will keep you agile in this new world."
Burding encouraged title agents to improve their operations by gaining more expertise and investing in long-term changes that will set up the industry for success for years to come.
To wrap up his speech, Burding encouraged the industry to "Stay confident. Plan ahead. Attack the fear."
Joining Burding on ALTA's 11-member Board of Governors are:
President-elect: Daniel M. Wold (Minneapolis, Minn.)
Agents Section Chair: Jack Rattikin III (Fort Worth, Texas)
Underwriters Section Chair: Don Kennedy (Santa Ana, Calif.)
Treasurer: David Townsend MTP, NTP (Columbia, Mo.)
Chair of Finance Committee: Richard H. Welshons (Hastings, Minn.)
Agents Section Rep: Maureen Pfaff WTP, NTP (Port Angeles, Wash.)
Agents Section Rep: Quinn H. Stufflebeam (Blackfoot, Idaho)
Underwriters Section Rep: Robert J. Wineman (Livonia, Mich.)
Underwriters Section Rep: Tara Smith (Houston, Texas)
Immediate Past President: Mary O'Donnell (Maitland, Fla.)

Contact ALTA at 202-296-3671 or communications@alta.org.