ALTA and Tennessee Land Title Association Raise $6K for St. Jude
July 11, 2019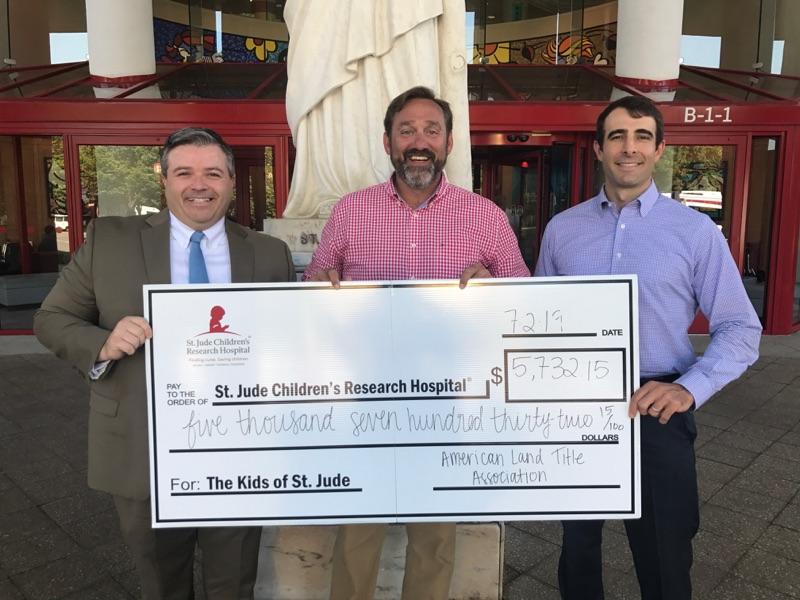 Charity isn't reserved for the holidays. At ALTA SPRINGBOARD in March, ALTA, the Tennessee Land Title Association (TNLTA) and event attendees raised almost $6,000 for St. Jude Children's Research Hospital.
ALTA and ALTA SPRINGBOARD attendees often endeavor to give back to the community in which the event is held. In 2017, participants decorated Tom's Shoes for a local Fort Worth, Texas, charity, Presbyterian Night Shelter. During this year's ALTA SPRINGBOARD, ALTA and TNLTA teamed up to raise money for St. Jude. While nationally known, St. Jude is located in Memphis, Tenn., where ALTA SPRINGBOARD most recently was hosted. St. Jude's mission is to advance cures and means of prevention for pediatric catastrophic diseases, such as cancer, through research and treatment.
"I am grateful to be a part of an organization that supports St. Jude," said Justin Tanner, president of TNLTA. "The work they do is phenomenal! They are helping families and saving children's lives daily."
In addition to raising funds, ALTA offered to match 100% of the charity drive contributions.
"Unlike other hospitals, the majority of funding for St. Jude comes from generous donors, so we were thrilled to be able to support such a noble cause," said ALTA President Cynthia Durham Blair NTP. "It is an honor to help raise money for a research hospital that freely shares the discoveries it makes so children worldwide can be saved."
When Josh Terry and Chris Mule, partners in Tennessee Title Services LLC, heard about the charity drive, they immediately volunteered to make matches of their own.
"Chris jumped at the opportunity as soon as he learned of it at SPRINGBOARD," Terry said. "We love giving; it is who we are! We always are looking for ways to serve others through what we have been given, whether that be our ability to serve with our time or through financial opportunities. To give confidently to such a special place was truly a blessing."
Tennessee Title Services is no stranger to giving back: The company partners with Homes for Homes, an organization that makes homeownership a possibility for impoverished families in Mexico and Uganda. The business gives a portion of each closing directly to Homes for Homes.
In July, Tanner, Terry and Mule had the chance to present St. Jude with the donations collected at ALTA Springboard. They also were able to take a tour of the hospital.
"It was an honor to see first-hand the impact they are having," Tanner said. "I believe that their cutting-edge research, which they share with the world for free, will hopefully lead to eradicating childhood cancer."
At St. Jude, no child is denied treatment based on race, religion or a family's ability to pay. The hospital is supported mainly through individual contributions rather than health insurance, tax revenue or patient billing.
"I wish everyone would have maxed out ALTA's match commitment," Mule said. "St. Jude is an amazing organization that is doing amazing things, not only in care but in research. Josh and I both have kids that are healthy and strong. It breaks my heart to hear of those that are not blessed with the same."

Contact ALTA at 202-296-3671 or communications@alta.org.