Survey: The Impact of Fraud on the Industry
ALTA and Ernst invite you to participate in a survey addressing fraud within real estate transactions. Fraud unfortunately impacts all of us. Your input will be shared throughout the industry in an effort to collectively create solutions to help minimize fraud in the future. Survey results will be the focus of a general session discussion at ALTA's 2012 Business Strategies Conference, being held March 25-27 in Louisville.


CFPB Addresses Issuance of Multiple GFEs, Tolerances
Many lenders believe the 2008 RESPA rule requires them to reissue a Good Faith Estimate (GFE) every time it's discovered the actual amount of a third-party charge exceeds the estimate in the GFE, even if the increase is less than 10 percent. As a result, lenders may be reissuing GFEs unnecessarily. Read on to find out what the CFPB is considering to eliminate the issuance of multiple GFEs, as well as proposals to modify tolerances.

Four ALTA Members to Participate on Small Business Panel Addressing New Mortgage Disclosure Forms
The ALTA members will participate March 6 on a Small Business Review Panel sharing concerns with the Consumer Financial Protection Bureau how the integrated the RESPA/TILA mortgage disclosure forms will impact closings and their business.

Freddie Clarifies Position on Deficiency Judgments for Short Sales, Deed-in-Lieu
Freddie Mac reinforced the requirement that the servicer, for itself and on behalf of Freddie Mac, must waive all rights to pursue payment of the remaining balance owed by the Borrower under a Freddie Mac-owned mortgage for all approved short payoffs and deed-in-lieu of foreclosure transactions that have closed in accordance with the Single-Family Seller/Servicer Guide and applicable law.



Regional Underwriters Merge
According to an announcement by General Title Insurance Co. President Robert Holman, Pennsylvania-based Manito Title Insurance Co. will operate under the General Title brand.

Investors Title Announces Fourth Quarter and 2011 Full-Year Results
North Carolina-based Investors Title Co. reported lower premium volumes led to a 21 percent decrease in net income during the fourth quarter of 2011, while expense reduction and a favorable claims experience led to an 8.8 percent increase in net income in 2011 compared to the prior year.

reQuire Announces Expansion Efforts
reQuire Release Tracking, a national release tracking company, announced that Joe Troilo will spearhead its expansion into New York, while Alan Shumate joined the company as northern Virginia account manager.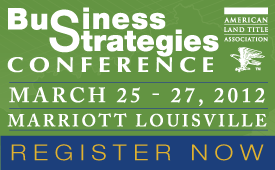 ALTA CONFERENCES

Agents & Abstracters Forum
March 25, 2012
Marriott Louisville
Louisville, KY • Register Now

2012 Business Strategies Conference
March 25 - 27, 2012
Marriott Louisville
Louisville, KY • Register Now

Agents & Abstracters Forum
April 22, 2012
Dallas, Texas • Register Now

2012 Federal Conference and Lobby Day
May 6 - 9, 2012
Regency Capitol Hill
Washington, DC • Register Now

Agents & Abstracters Forum
May 20, 2012
Minneapolis, Minnesota • Register Now

Agents & Abstracters Forum
September 22, 2012
Richmond, Virginia • Register Now

2012 Annual Convention
October 17 - 20, 2012
The Broadmoor
Colorado Springs, CO • Register Now