ALTA SPRINGBOARD: Why You Need to Attend
January 25, 2017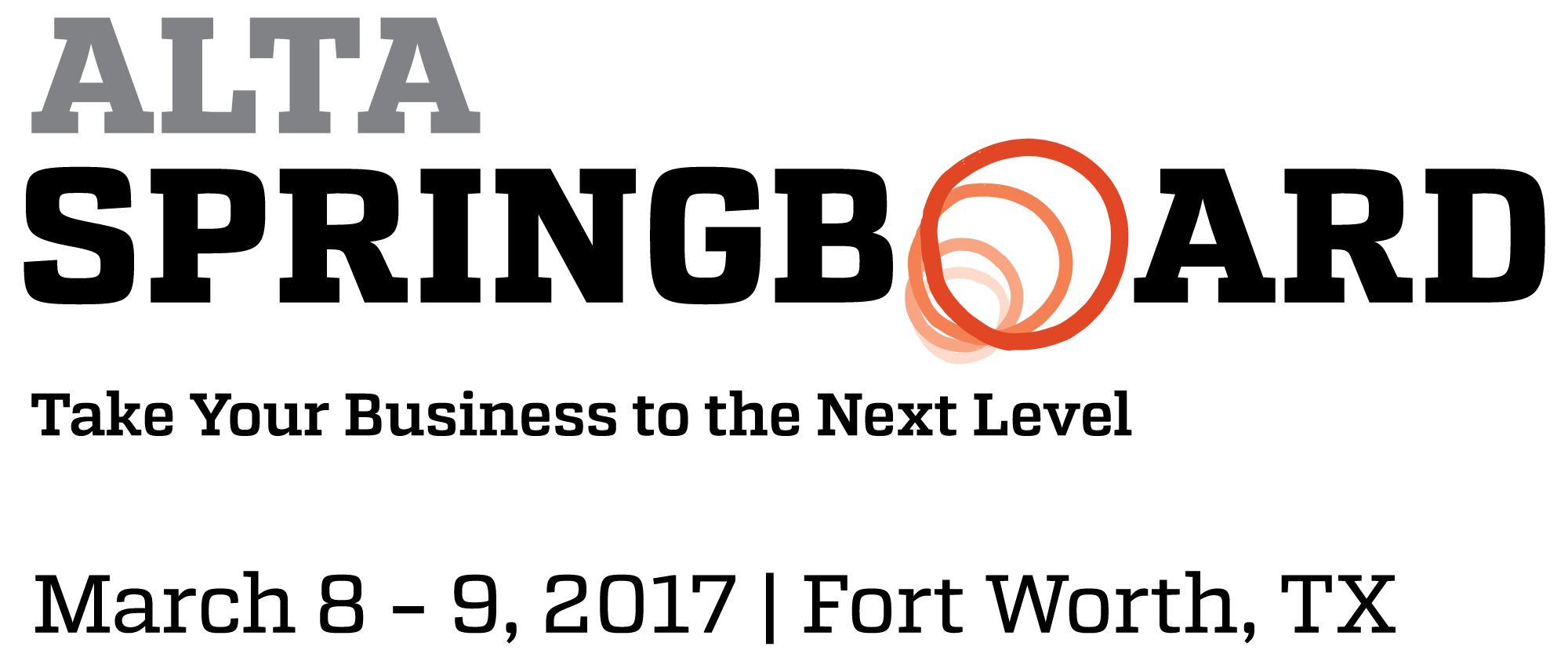 All New Format Introduces One-of-a-kind Personalized Experience and Ditches Typical Conference Schedule
To offer title professionals a forum for fresh thinking and new insights, ALTA developed a new live-event experience called ALTA SPRINGBOARD. We've 86ed the general session, typical education programs and exhibit hall, and are introducing a fresh curriculum.
Why You Should Attend
Nowhere else in the industry will you get a more personalized experience. ALTA will survey attendees before attending to determine what people want to learn or experience during ALTA SPRINGBOARD.
ALTA will use the info to strategically place attendees in groups to maximize learning and networking during the conference.
What You'll Learn
Attendees will participate in Ideas Festivals, Knowledge Communities and Pitch Jams to learn about various topics including:

Staffing: Talent acquisition, onboarding, retention
Connecting With Customers: acquiring business, pre- and post-closing process, closing experience
Culture of Compliance: Identifying and instilling values, empowering staff, marketing to customers
Career Advancement
Professional development is a major component of ALTA SPRINGBOARD and to the success of your business. You can attend career advancement courses that match what's most important to you. Topics will include:

how to be a good leader
how to be a good trainer/presenter
tips on how to move up in a company
time management skills
tools to resolve conflict
Business Solutions
How vendors interact with attendees also will be different. Vendors help identify business solutions and are vital participants during a conference who have helped the industry with issues such as implementation of TRID and Best Practices.
Interested in becoming a vendor at this event? Please contact Claire Mitchell.
Brain Dating
You'll enjoy more time sharing and learning instead of sitting and listening as we introduce BRAIN DATING, an all new level of networking.
This peer-learning hub will allow attendees to complete a profile, customize schedules and make online connections and schedule Brain Dates with fellow participants to discuss specific items.


Early-bird registration and the hotel room block ends February 10.

Contact ALTA at 202-296-3671 or communications@alta.org.